Aviation Fund as investment


Structuring example for a Regional Aviation Investment Fund
Aviation Fund as investment
for regional aircraft
Consideration of a possible structure for an Aviation Fund as an investment for regional aviation. The following information has been prepared by Prime Invest for a possible structure for an Aviation Investment Fund for qualified investors with the working title "Diversified Regional Aircraft Investment Fund". It is not a ready-made offer for an investment. Key features such as the legal and tax structure have not yet been determined. Likewise, the individual investment objects have not yet been specifically identified. The term "Diversified Regional Aircraft Investment Fund" is also only a working title.
Assumptions for structuring a Regional Aviation Investment Fund for regional aviation with Prime Invest
The passenger aircraft market doubles every 15 years
Demand growth independent of regional developments, as there is a huge pent-up demand in emerging countries
In the next 20 years demand for 33,070 new aircraft worldwide. This corresponds to 165 new aircraft per month over the entire period
Aircraft leasing is increasingly preferred by airlines
Regional aircraft market is particularly attractive
A high degree of diversification can be achieved by a relatively small investment sum per aircraft
Climate-neutral air traffic targeted by 2050, therefore also a sustainable investment
Investors participate in a Luxembourg special fund (RAIF, SICAF)
Structuring/individualisation of a club deal/individual investment possible
Investment objective Regional aircraft:
    Large regional aircraft with a seating capacity of 70 to 150 seats
    New or young aircraft (0 to 5 years old)
    Aircraft types popular with the airlines
    Chartering to airlines with a solid credit rating
    Long-term leasing agreements with terms of generally 8-12 years
    Diversification by aircraft type, airline, region and maturity bands
40-60% leverage at SPV level
No running time limit. If the market environment is attractive, the sale of individual aircraft can increase the yield.
Investment units can be redeemed once a year with a notice period of five months to the end of the month
The target return of the fund is conservatively 8-10% p.a., opportunistically 10-12%,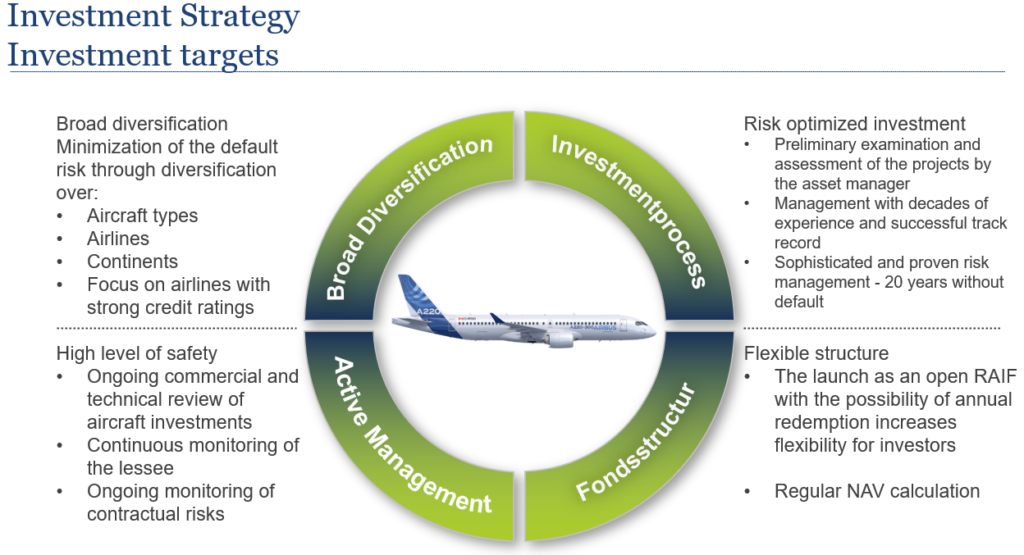 Funds launched after a crisis have always performed well. It also takes some time before a fund is launched, the necessary equity is committed and sufficient underwriting capacity is achieved. Therefore, it makes sense now to consider an aviation investment fund for regional aviation from Prime Invest.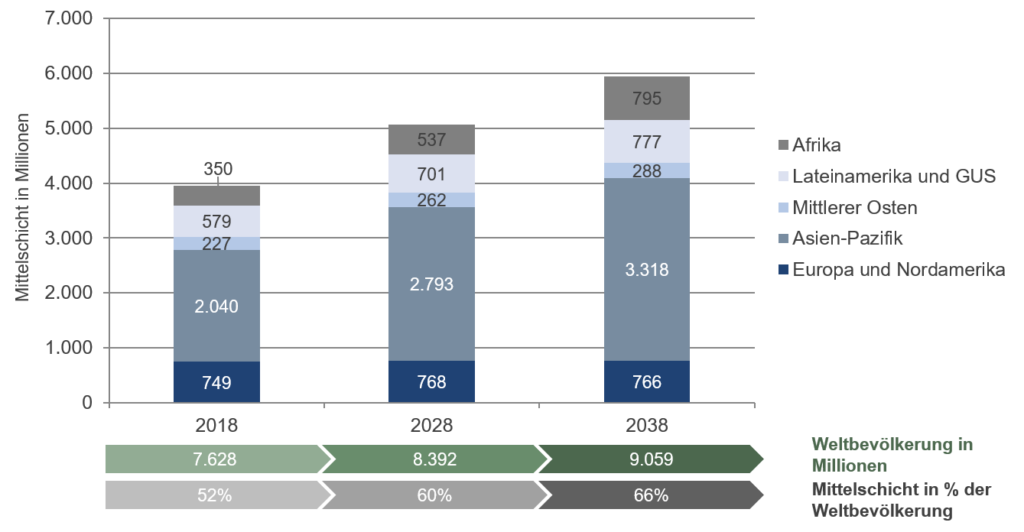 The proportion of the middle class is growing disproportionately in relation to the growth of the world population. The middle class represents the largest demand for air travel worldwide.
Demand is particularly strong in the Asia-Pacific region.
Further details on the Aviation Fund
We are at your disposal for further detailed information at any time. You are welcome.
The experience of the people involved is of decisive importance
EastMerchant is focused on the conception and implementation of property-related investment opportunities.
The EastMerchant team has a broad range of professional qualifications and more than 20 years of experience in financing and managing structured, often cross-border transactions. Our team stability ensures reliable support for long-term projects.
Thanks to our close contacts to manufacturers and operators of the investment properties as well as banks and investors to be financed, attractive projects can be identified particularly quickly and implemented efficiently. The aim is to develop a tailor-made product with an appropriate risk/return profile from the optimal combination of investment object and financing instruments.
Due to the high quality and innovative strength of its products, EastMerchant has earned itself a high reputation at national and international level and is considered an innovation leader in the industry.
EastMerchant had established the issuing house Sachsen Fonds as a founding and majority shareholder. Until its sale in 2007, Sachsen Fonds ranked among the top 10 funds in Germany with an investment volume of over EUR 3 billion (EUR 1.1 billion of which in aircraft funds) and a portfolio of 40,000 investors.
EastMerchant was able to structure or arrange more than 130 transactions with a total transaction volume of over USD 32 billion.
Do you have further questions?
Do you have further questions? We are at your disposal at any time and look forward to hearing from you. You are welcome.
This might also interest you